Places to catch Atlantic salmon, and Parador Villanueva accommodation on the river Sella, Asturias, northern Spain.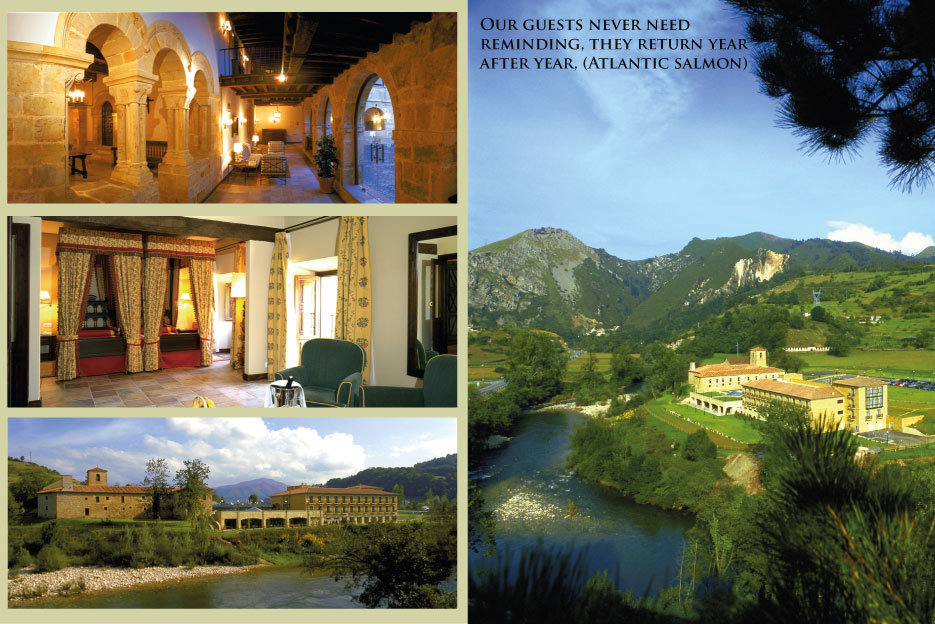 A standard twin, room costs 100 euros for one night. And there are three promotional offers.
1. Golden Days promotion (available year round): Anyone over 55 years old can enjoy a 30% discount on the Official Rate in any kind of room, for stays with room and breakfast. To enjoy this promotion, breakfast is mandatory.
2. Two Nights Special Promotion offers you a 20% discount on the Official Rates in any kind of room for stays of two or more consecutive nights at the same Parador, always in Half Board (Parador restaurant menu, beverages not included).

3. The five nights card costs €525 (including VAT), €105 (including VAT) per night. When you use this card for your stay you will also receive a 20% on the official price of the Parador menu (drinks not included).
The 5 night card allows you to stay in different Parador locations. For example, you might decide to divide your time between salmon fishing in Asturias and fishing for wild brown trout in the Pyrenees. Further superb fly Fishing opportunites are found at the Bielsa Parador in Aragon.
The second and third promotional offers are available from January 2 – December 29, 2011, except for these dates: Easter week: April 20–24 (inclusive), April 30 – May 1 (inclusive), December 2-12 (inclusive)
To make a reservation or find out more about places to catch Atlantic salmon, and Parador Villanueva accommodation on the river Sella, Asturias, northern Spain, please contact Phil using the contact details found on the previous page