Places to go fly fishing for wild trout in the Pyrenees, Spain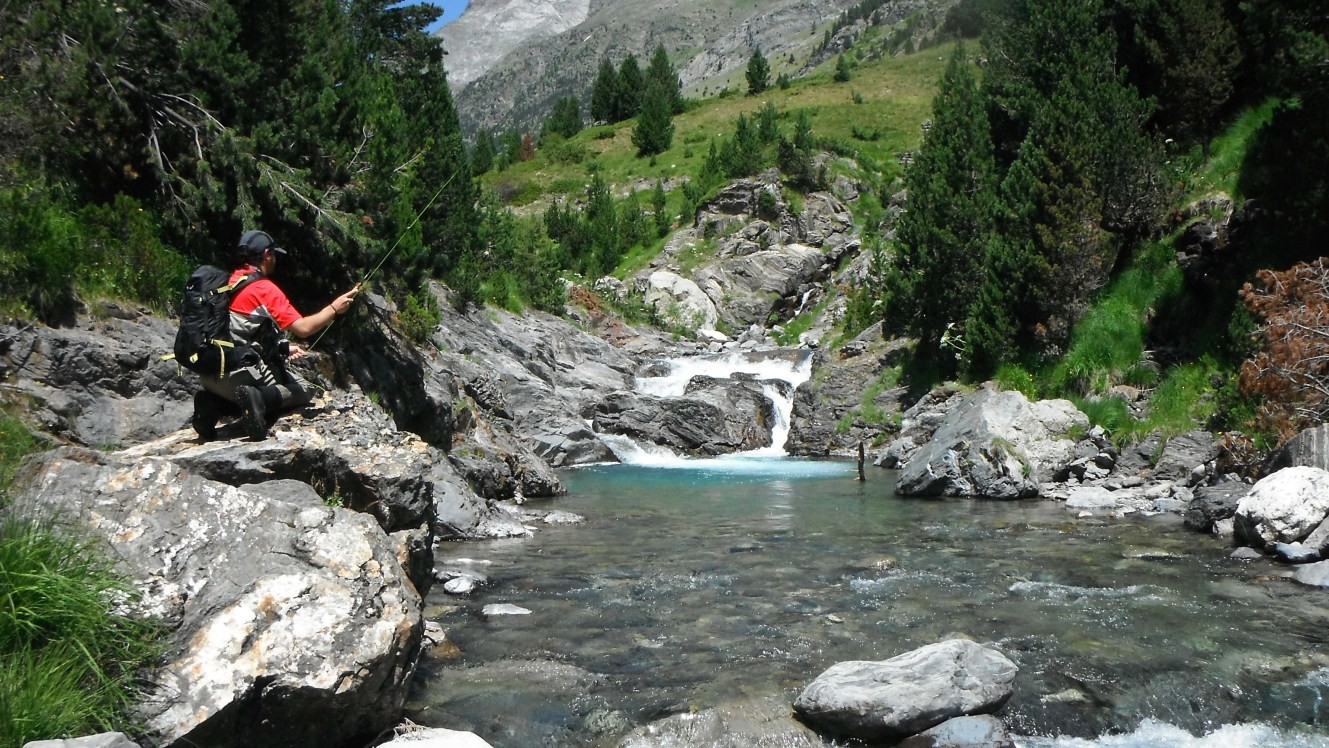 Typical cost of a fishing trip to Aragon's Pyrenean trout rivers for two visitors
Choice of 3 places to stay: either at a ***hotel in Jaca, 75 euros per night for two guests sharing one double room, breakfast is included - see picture above, of one of our guests casting a fly lure in the River Ara. At a luxury ****Parador Hotel on the banks of the River Cinca near Bielsa, cost 115 euros per night, per guest with a five day discount card (excluding breakfast). Or stay with our fishing guide Javier high up in the Pyrenees.
The 5 night Parador card allows you to stay in different Parador hotel locations. For example, you might decide to divide your time between enjoying the Pyrenees and fishing for Atlantic Salmon in Asturias. Click here to view a fly fishing holiday in Asturias, staying at the Parador hotel in Cangas by the banks of the River Sella.
Two day's guided fishing, for two guests (English speaking guide), cost is 270 euros, and includes two Aragon fishing licences and packed lunch. There are up to five local trout rivers to choose from. American angler, Hugo Llorens is shown fishing the river Cinca, below.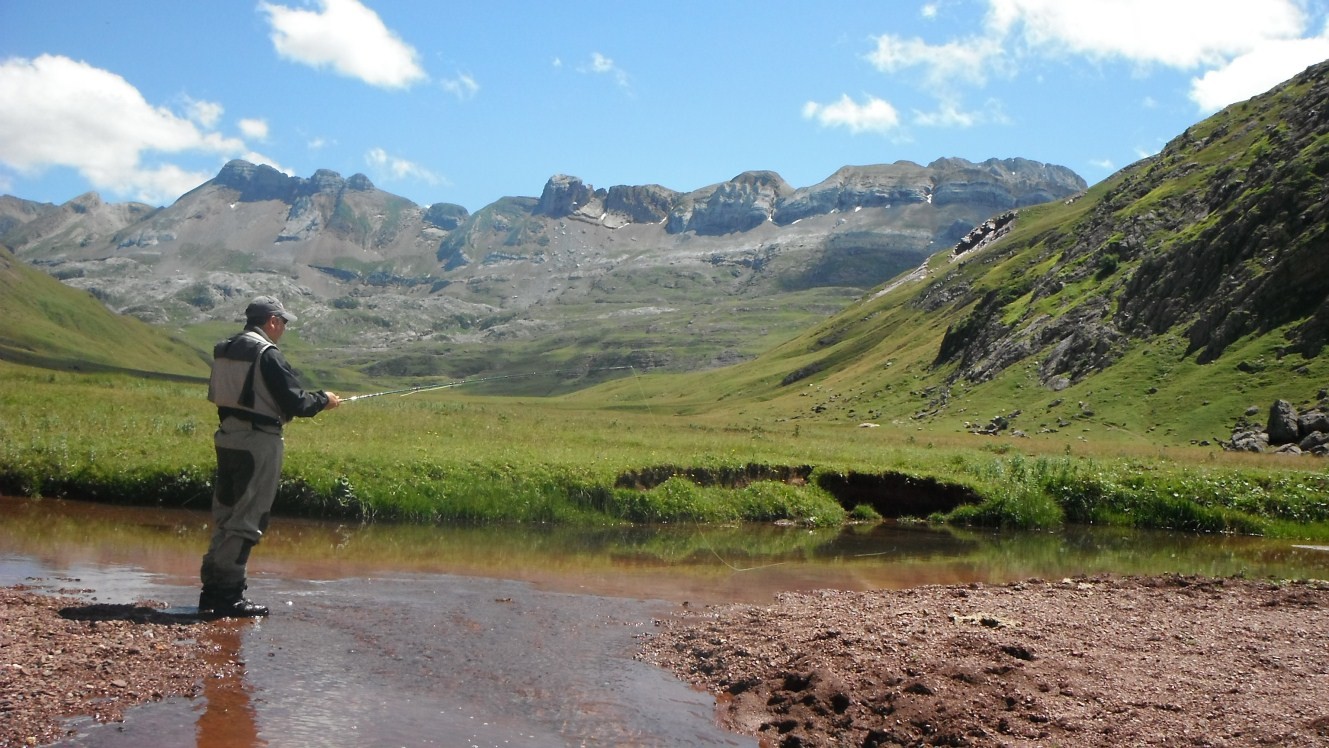 Expat American angler Hugo Llorens, searching for places to go fly fishing for wild trout in the Pyrenees, Spain; accompanied his fishing mad family to Huesca province in Northern Aragón, in May 2011.
Hugo recounts " The place has great ambiance, its food is wonderful, and the Cinca and Ara rivers are on your doorstep. We were able to obtain our fishing license from our hotel, and that included access to a restricted portion of the river Cinca, near to the town of Bielsa.
Both rivers are fine trout streams. We were able to catch several brown and rainbows fishing, using size eighteen red quills and black gnats, on the surface. Early morning and early evening were good for the dry fly lures. Early afternoon, I recall we caught our biggest fish, a nice brown - maybe close to a pound, using nymphs (size eighteen). I recall that we were fishing a Prince nymph.
It's a beautiful area and the trout water is wonderful, although nearly all of our fish were relatively small, at 6-9 inches, except for the fat brown trout, which I caught on public, free fishing water, onthe river Cinca just south of Ainsa. We fished with a floating line (3-4 weight)."
What we can do for you?
We can arrange an expert, English speaking, local fishing guide to escort you and your friends and family on the Cinca and Ara rivers. These are places to go fly fishing for wild trout in the Pyrenees, Spain. Fishing licences are included. Tackle and equipment provided on request.
We can reserve a room for you and your friends and family at Parador de Bielsa on the banks of the river Cinca. Where an expert chef will cook your day's catch, using a traditional Aragonese recipe, with sherry sauce (food optional).
What you can do for us?
Just turn up and enjoy a brilliant time, discovering places to go fly fishing for wild trout in the Pyrenees, Spain;
in uncrowded upland rivers surrounded by amazing mountain scenery.
How to book your Spanish fly fishing adventure?
Or you can contact Phil for further advice and information, +44 (0) 7915581854
We can also provide further expert, advice on salmon and trout fishing holidays in Northern Spain, including areas of Asturias, Galicia, León, Salamanca, la Rioja and Catalonia and Southern Spain's trout fishing areas of Jaén, Cuenca and Granada.
Click here for coarse angling holiday adventures in Spain
For carp fishing holidays in Morocco click here