Who wants to go fishing in Poland?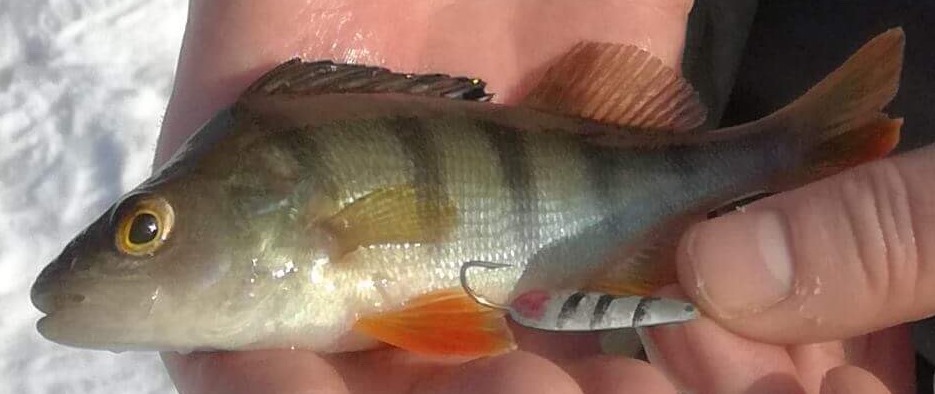 Ice fishing produces a perch
Not an obvious question, for many anglers, except if you're Polish, or, like me, a U.K. expat living in a medium size country town, on the banks of the Wistula River (Visla rzeka) in south west Poland.
Locals ask; in Czarny Piotrus pizza and sports bar, "What brings you to our town?"
They ask "Attracted by our nightlife?"
I reply "Yes".
Each evening a dance for survival, as predator seeks out prey, plays out over a submerged sandbank; overlooked by Pulawy's (pronounced poo-wah-vy) old town bridge - refer to picture above.
All hell breaks out from dusk, as schools of frantic, fleeing bait fish hop-hop across the water surface; the surging bow wave of zander, signalling pursuit.
Standing in 30cm of passing, warm water, tiny fish tickling my toes, spinning, waiting for an imminent hit: not just zander are attracted by small baitfish lures: other catches, to my delight, have included perch (okon), pike (sczupak), chub (klein), and ide (bolen).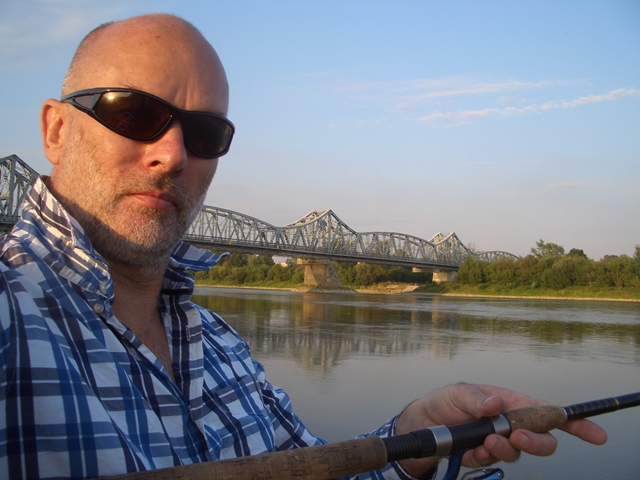 Pulawy's old bridge, a great place to start fishing the Wistula River
Although considered a town swim, nature abounds. At dawn, herons patrol the banks for frogs, insects and small fish. At dusk, witness white storks teaming up, in preparation for their journey back to Africa, it's September. As the moon appears, beaver (bobr) venture out from an adjacent pool, patrolling close to the river bank; or is it a river monster? Wels catfish (sum) make their homes in deep river holes, they can reach more than two metres in length and grow to over 90kg.
I would describe fishing in Pulawy as challenging but rewarding. So far, i've been pleased with various catches (refer to selection mentioned above). I've hooked and lost bigger fish, some lured right under my rod tip. The Wistula's powerful current takes some getting used to; even a 2kg fish will put up a hell of a struggle in the main channel.
In the surrounding area, I have pursued brown and rainbow trout on the Chodera River, near Opole in late summer. And hungry pike, on the Weiprz River in spring. Both angling destinations are less than 40 minutes drive from Pulawy.
Further east, the Bug River forms the border with Belarus. A big river, although not as big as the Wistula, set in wonderful countryside; forests and stork nests abound. Fishing pressure is low because the Belarus side bans habitation and visitors. A member of our group landed a sizeable zander, on a spinning lure in June. What further secrets does its depths hold? We'll find out on our next trip in late September.
Polish winters are cold, yes it's true. When the Wistula freezes over, locals head to shallow frozen lakes. where tiny metal lures are dropped into holes; drilled through the thick ice, to arouse perch from their slumber. I accompanied my Polish fishing comrades, last January to one such frozen lake. Click on my blog to find out how we got on.
As a newcomer - fishing and living in Poland, i'm experiencing a steep learning curve, but it's been fun, so far. Poland doesn't give up its fish cheaply, nor its best vodka, but enthusiastic, local fishing experts have introduced me to some of their most loved fisheries. I'm grateful for their generous hospitality and expert advice.
My blog provides pictures and commentary on Poland's diverse fisheries; the ones i've experience so far.